Clients
For more than 15 years, Imhotep has been working as a strong and reliable services provider for corporate and institutional clients in many countries.
Imhotep carries out tasks for States, local authorities, investments funds, international energy production companies.
Imhotep also handles projects for clients less famous, but as much demanding, such as :
Investments funds in Luxembourg and Switzerland specialized in green energy.
​
Family offices that fund the equity needed to structure the debt of our projects
​
Banks specialize in the financing of senior debt focused on renewable energy projects such as: (KfW Development Bank with ACA for financing projects in Africa and Triodos and Crédit Agricole for financing projects in Europe).
Imhotep actively participates in structuring the debt of the projects entrusted to it by carrying out the financing and financial structuring necessary for the development of projects. In accordance with the standards imposed by the IMF, the EIB and the African Development Bank.
Partners
Imhotep is a project manager. To achieve success in every project for more than 15 years, we have developed strong partnerships with major financial and industrial players.
Each new project is unique and, as such, we have established strong partnerships for each country to be able to meet the specific requirements of each project the best we can. Our goal is to achieve the best economic and industrial performance by reducing unnecessary risks.
Our Trustable Technical Partners
The choice of our industrial partners determines the success of our projects.
Each new project is a unique adventure, for that we choose our partners when:
Our entrepreneurial values are shared, in particular the respect for our customers and the respect for the political and social environment of our projects.
They agree to share our commitment to the local people. (Technology transfer educating young people in construction and maintenance trades).
They have a regional presence or local network to facilitate maintenance operations.
They hold the most recent and most demanding quality standards (European standards)
They manufacture industrial systems which correspond to our specifications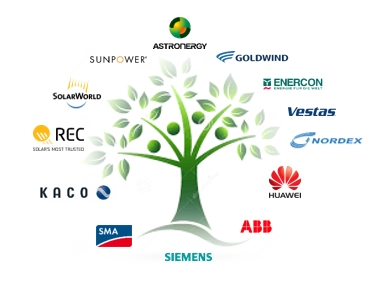 Our Trustable Industrial Partners
The construction of our projects is carried out by international companies able to control all our processes. For each project we require security of supply, respect of construction costs, respect of construction deadlines, assistance with industrial reception and commissioning operations and bank guarantees for the completion of work.
To be selected, our partners must :
Offer competitive solutions (technical and economic)
Produce bank guarantees.
Ensure the delivery time of technical equipment
Respect construction costs and deadlines
Assist our customers in industrial reception and commissioning operations

GREENCELLS GROUP
With 1.3 Gigawatt of photovoltaic power plants built, the Greencells Group is one of the biggest European providers of photovoltaics power plants.

GILDMEISTER ENERGY
Gildemeister energy solutions GmbH is a global service provider in the field of renewable energy. In addition to the development and turnkey construction of solar farms and related services, the company offers global industry solutions, including solutions for energy efficiency.

ENERGIEGEWINNER
Energiegewinner is a German cooperative society specializing in the construction of photovoltaic solar power plants and wind farms.

SPIE
As a major company involved in green energy, SPIE plays a growing role in global energy transition. Using its wide range of expertise, the Group promotes the development of nuclear and renewable energy on a daily basis.